LA Red Carpet – Finalist Highlight: Sayuri
Meet Sayuri, one of our Final Four contestants who will be competing this weekend in Los Angeles!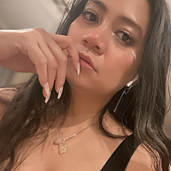 Sayuri describes herself as "Everyone's favorite ateh 🙂", and if you've ever joined her streams you'd understand from her welcoming environment and openness to sharing her wisdom!

Sayuri is one of the original streamers on EME Hive, and her streams have only grown more fun along with EME Hive's community. When asked why she thinks she'll win the LA Red Carpet contest, she simply said it's because she "Wanna vibe and make friends and spread positive to everyone💖"
We're positively excited to see how she'll perform this weekend against the other finalist – tune in this weekend and cheer for everyone's favourite ateh!
---
Thank you for being a part of the EME community!
With love,
EME HIVE
Questions or concerns? Reach out to us at hello@emehive.com