Why join a community? How will it benefit my experience? W HAVE THE ANSWERS!
At EME Hive communities are a part of our foundation when it comes to live streaming. There's nothing like the power of others to help lift an entire group up. Outside of the communal aspect of joining a community; there are also in app perks that give it added value. So here is a brief summary:
As a new User
You can join a already existing community
Or you can create your own!
---
Boost your Community
Invite to people to join your community to gain Community Points!
There are weekly prize winners for those communities that gain the most points!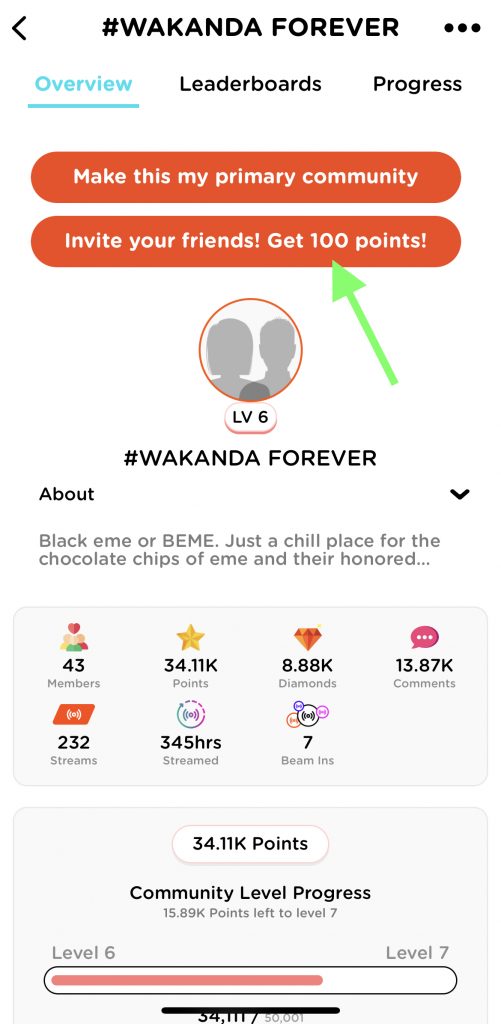 ---
Community Action Chart
Listed below are actions you can take to boost your community profile
Take these actions to make it to the top & maintain your position
Don't forget to invite as many people as possible to your community!
| | | | |
| --- | --- | --- | --- |
| Action | Description | Points | |
| Invite to community (external) | Community gets points when those people invited to create an EME account and join that specific community | Large | 500/invite |
| Send/Receive gift | Get points per diamond | Medium | 10 per diamond |
| Watching | Community receives points for each milestone of live watch time by a viewer. | Small | 10 per instance |
| Streaming | Points every 5 mins of live streaming | Small | 1 per instance |
| Chatting | Get points for the first chat you send of the day | Small | 15 per instance |
| Share | Share live room/community to your Social Network | Small | 20 per share |
| Membership Milestones | Community unlocks points for crossing certain membership thresholds | Large | 20-100 per instance |
---

Thank you for being a part of the EME community!
Sincerely,
EME HIVE
Questions or concerns? Reach out to us at hello@emehive.com